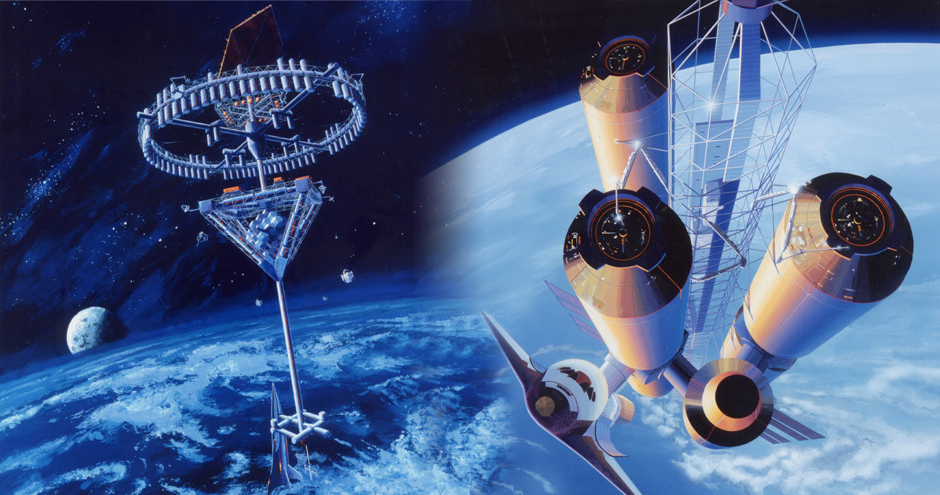 An out-of-this-world hotel is set to launch in 2021.

California-based firm Orion Span has announced that first-ever luxury 'space hotel' will be in orbit within four years, and able to welcome passenger within five years. But a stay won't come cheap. The firm is charging space tourists $9.5 million (£6.7 million) for a 12-day visit.
The experience will allow guests to test out zero gravity and gaze upon stunning views of Earth, as well as witness an average of 16 sunrises and sunsets a day.

The project was announced yesterday at the Space 2.0 summit in San Jose, California.
The space hotel, dubbed Aurora Station, will house six people at any one time - four paying passengers and two crew. Orion Span was founded by Frank Bunger, now the CEO, and the company claims it's mission is to 'build and sustain human communities in space accessible to all.'
'We developed Aurora Station to provide a turnkey destination in space,' Bunger said at the summit. 'Upon launch, Aurora Station goes into service immediately, bringing travellers into space quicker and at a lower price point than ever seen before, while still providing an unforgettable experience.'
Although the company intends to build the space station itself, it has yet to confirm launch details with any other firms. It is believed the space hotel will be modular in design, making it easier to launch and add to at a later date. As well as the extraordinary accomodation, customers will be able to take part and experience aspects of life as an astronaut.
Bunger told Forbes: 'We have a virtual reality experience, what we call the holodeck, named after Star Trek. Lastly, when the guests return home to Earth, we're going to treat them to a hero's welcome.'
Although pegged as a space hotel and offering all the bells and whistles for the guests, Aurora will also serve other functions outside of hospitality. 'Aurora Station is incredibly versatile and has multiple uses beyond serving as a hotel,' Bunger explained.
'We will offer full charters to space agencies who are looking to achieve human spaceflight in orbit for a fraction of the cost - and only pay for what they use. We will support zero gravity research, as well as in space manufacturing. Our architecture is such that we can easily add capacity, enabling us to grow with market demand like a city growing skyward on Earth.'
The space station will be about the size of a large private jet's cabin, measuring 43.5 feet long by 14.1 feet wide (13.3 by 4.3 meters) and feature a pressurised volume of 5,650 cubic feet (160 cubic m). With cloth and material switched out on every flight and high speed wireless internet to keep in touch with friends and family, the Aurora hotel is designed to be a luxurious stay.
Unlike most hotels however, the guests will be living in zero gravity conditions for the duration of the trip.
An ambitious time scale was also revealed at the summit, with Bunger claiming that the hotel will launch by 2021. After a brief period of time, tourists will be welcomed to the orbiting hotel the following year.
Whilst the total cost of a return ticket is $9.5 million (£6.7 million), those keen to experience 'the world's first luxury space hotel' will be required to put down a $80,000 (£57,129) deposit up front. The 12 day experience equates to more than $28,00 (£20,000) an hour. In order to ensure safety of guests on board the satellite, prospective customers will be subjected to a three-month training regime at an Orion Span facility in Houston, Texas.
The design of the craft means that EVAs (extravehicular activities) and spacewalks are unnecessary. In a blog post, Bunger said that the company has plans beyond the space hotel too.
'As Aurora Station continues to grow with market demand, we will also sell space condos – your own capacity aboard Aurora Station and future space stations to visit, sublease, or one day live in as you wish.'
Down with the very line, the company really hopes to sell or rent space in the Aurora, allowing people to sublet or live there.

This is not the first attempt at commercialising space travel.

In December 2017, Russia declared that it wants to welcome space tourists to the ISS by 2022.
This venture was projected to be far more expensive than the Aurora mission, with tourists charged £30 million ($40 million) per person for a one to two week stay. An extended month-long visit will set travellers back an additional $15 million ($20 million).
Several other companies, headed up by different billionaire owners, are trying to crack commercial spacecraft too.

Jeff Bezos, CEO of Amazon, is leading the Blue Origin project which is being funded by the billionaires vast wealth of Amazon stocks.
Richard Branson and his Virgin Galactic dream last night recorded its first rocket-powered flight with supersonic Unity spaceplane. Over the Mojave desert, the plane flew to an altitude of roughly 46,500 feet carried by the Eve WhiteKnightTwo 'mothership,' before separating to fire up its own rocket motor and accelerate to over 1,400 miles per hour (Mach 1.87).
Elon Musk, the entrepreneurial phenomenon who owns Tesla, SpaceX and the Boring company, recently launched his 'Falcon Heavy' rocket towards Mars. The enormous rocket, the biggets in history, also carried his red Tesla Roadster.
Source